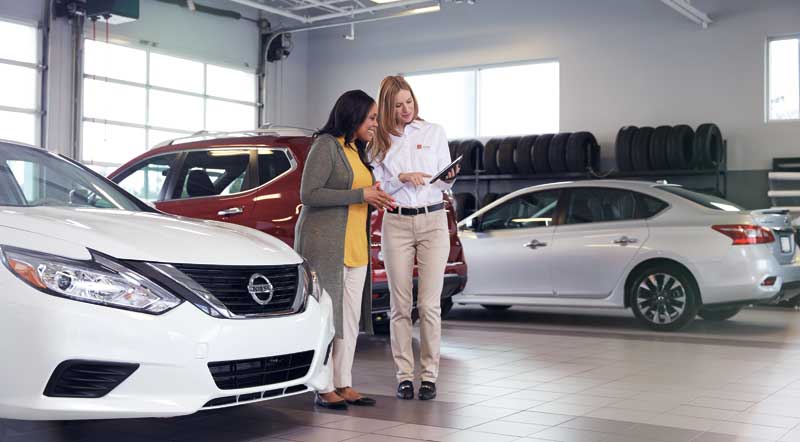 Find Excellent Service And Maintenance Options at Jones Nissan
Whether you're cruising around Savannah, TN in a car, truck, or SUV, you'll want to ensure that it stays in great condition. The best way to accomplish this goal is to have it routinely maintained by professional  technicians. Here at Jones Nissan, we not only offer a long list of both new and used vehicles, but we also have a  service center that's prepared to take care of your vehicle.
Remember These Service Appointments
If you are wondering about the service appointments that you should be making, here are some general guidelines to get you started.
Change the Oil- Oil helps to lubricate the parts in your engine and keeps it from overheating. As you drive your car, oil becomes dirty and polluted. You will want to change this out about every 7,500 miles of driving.
Get the Tires Rotated- You will want to have your tires rotated about every 6,000 to 7,500 miles of driving as well. This will move the tread wear around, so you don't run into a situation where one of your tires needs to be replaced before the others.
Have the Battery and Brakes Checked- Your vehicle cannot run without the battery and brakes. Thankfully, these tend to last quite a while. However, you will want to have them checked periodically to make sure everything is working correctly and that you stay safe.
Jones Nissan is an Authorized Service Center
When you take your Nissan in for service, you want to make sure that a certified technician works on your vehicle. At Jones Nissan, this is the assurance that you will get. This is important because your car has unique parts and components. When they need to be replaced, you want to make sure that your technician uses the same parts that your Nissan relies on to run smoothly.
It would be helpful to take some time this week and make sure your vehicle is up to date with its service. You can contact Jones Nissan to go over this and receive some recommendations. Our goal is to help you have many happy years of driving your vehicle ahead of you. Discover expert auto service near Jackson, Columbia, Corinth, Florence, and Muscle Shoals today!
Your privacy is important to us.
Jones Nissan takes your privacy seriously and does not rent or sell your personal information to third parties without your consent. Read our privacy policy.
Hours
Monday

8:00AM - 5:00PM

Tuesday

8:00AM - 5:00PM

Wednesday

8:00AM - 5:00PM

Thursday

8:00AM - 5:00PM

Friday

8:00AM - 5:00PM

Saturday

Closed

Sunday

Closed